"PetPlop is the First Petfluencer Community of Rescue Heroes, Promoting Pet Adoption"
Every Fur Parent has known the rewarding affection and unconditional love a cat or dog can bring to someone's lives. Rescue Hero stands as the courageous act of saving an animal's life. Rescue Hero means adopting a hopeless soul and giving them a second chance.

As a Proud, Rescue Hero Mom, Dad and Fur Kids we wear this Pin Button Badge as a Recognition of the courage it takes to Adopt a Dog or Rescue a Cat.
The accessory insignia for the Special Accomplishment of Saving a Life.

Acknowledge the Noble Act of Pet Adoption with this Pin Button Badge.

Support the Cause of Helping Puppies and Kittens find their Forever Home

SHOW THE PROUD RESCUE HERO YOU ARE
For each product purchased, 10% are donated to a non-profit organization of your choice, giving those who need it most the chance of having a new life, a new family.
Spread the ADOPTION Love Awareness

adopt don't shop!

HELP SAVE LIVES
Adopt

your Fur-ever friend now at

Adopt-a-pet.com!
Are you ready to be a Pet Parent? rescue a puppy, kitten, dog, Senior Dog, Cat, or just an Animal Shelter near me?

"Pet adoption is quickly becoming the preferred way to find a new dog, puppy, cat or kitten. Best of all, there are so many benefits when you adopt a dog or adopt a cat over buying. "

Adopt your fur-ever dog or cat rescue friend now at adoptapet.com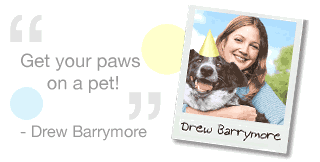 24/7 virtual veterinary

care at


WagWalking.com!

Is my Dog sick? What's wrong with my Cat? Is there any Symptom checker for dogs?

"Wag! Health connects you to expert advice for a range of symptoms and conditions right from your smartphone. Chat wherever you are, same day."

Check your Dog and Cat health Symptoms through the wag app!

Petfinder

ensures that no

adoptable pet

lacks of a good home.



Pawsitive animal rescue Vibes can be found at Petfinder, where woofs and purrs fill our hearts with love and joy.

"We're here to help you every step of the way from "just looking" at over 250,000 adoptable pets, to bringing your pet home, to living a long and happy life with your new family member."

Check out adoptable pets or Shelters near you at Petfinder.com